INSTAFOREX BEST BROKER IN ASIA

Trader Insta

Active Poster





Registration date :

2015-03-30

---

Number of posts

: 328

---

Job

: traders

---

Age

: 39

---

Location

: Penang
First topic message reminder :



IFX Yvonne

The Quiet Type





Registration date :

2013-02-28

---

Number of posts

: 92

---
Rewarding year end!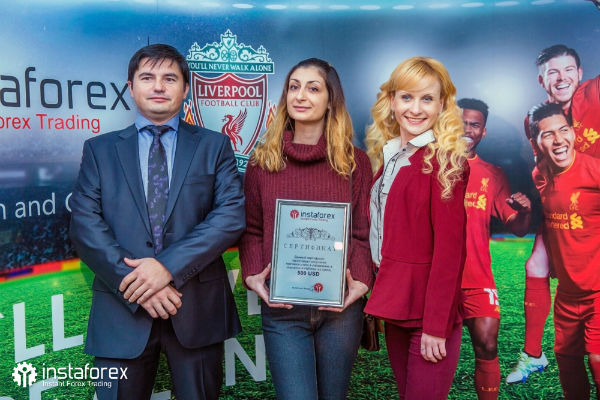 Approaching the year end, InstaForex hosted a traditional finance exposition under the ShowFx World brand. The expo in Kyiv is fairly considered a landmark event of the year. This time, a large number of visitors proved keen interest in Forex. The two-day expo in Regency Hyatt Kiev was visited by almost a thousand people. There are a few reasons behind this huge success. The first one is well-known speakers. InstaForex was represented by analysts Aleksandr Davydov and Mikhail Makarov as well as Regional Development Manager Sergey Aleksandrov.
As usual, Aleksandr Davydov expanded on global burning issues. He spoke about how a new economic policy in the US could influence the global economy. Besides, the analyst made his own forecast for currencies of emerging economies for 2017.
On the contrary, Mikhail Makarov focused on a practical issue. In his presentation, he shared two major secrets of steady success on Forex with the guests. The analyst put a high priority on the ability to develop one's own trading system which should be supplemented with wise risk management. The expert revealed both secrets, going into detail and answering questions from the audience.
Sergey Aleksandrov addressed his speech to trading practitioners who are eager to find an extra source of income that would not hamper their forex routine. As a way out, he suggested various trading services that ensure extra benefit in parallel with trading, in particular PAMM project and the ForexCopy system. He stressed that it is experienced traders who achieve the best results in affiliate programs of forex brokers. Indeed, practitioners can train beginners to trade and gain a reward for guidance.
The grand award ceremony was a jewel in the tight program. Winners of the 7th season of the international Miss Insta Asia beauty contest were presented with their prizes. Four winners in different nominations arrived at the ceremony from Russia, Ukraine, and the Czech Republic. Anna Gementchuk from Kyiv was declared Miss Insta Asia 2016. Apart from the title of the beauty queen, she was awarded a trading account deposited with $20,000. The girl promised to start trading in the near future.
Last but not least, ShowFx World hosts did not forget about prize draws and gifts for the visitors. Taking part in InstaForex traditional prize draws, some guests won bonus certificates worth up to $1,000 and branded devices. Those, who were not so lucky to win an iPhone 7, were given books on trading and accessories from InstaForex partner, Italy's Palermo football club.

InstaFX Shah Alam

Active Poster





Registration date :

2015-08-23

---

Number of posts

: 394

---
AKHIR TAHUN YANG MEMUASKAN
Menghampiri akhir tahun, InstaForex telah menjadi tuan rumah pameran kewangan tradisional di bawah jenama ShowFx Dunia. Ekspo di Kyiv secara adil dianggap satu peristiwa penting tahun ini. Kali ini, sebilangan besar pengunjung membuktikan minat dalam Forex. Dua hari ekspo di Regency Hyatt Kiev telah dikunjungi oleh hampir seribu orang. Terdapat beberapa sebab di sebalik kejayaan besar ini. Yang pertama adalah penceramah terkenal. InstaForex telah diwakili oleh penganalisis Aleksandr Davydov dan Mikhail Makarov serta sebagai Pengurus Pembangunan Wilayah, Sergey Aleksandrov.
Seperti biasa, Aleksandr Davydov berkembang mengenai isu-isu pembakaran global. Beliau bercakap mengenai bagaimana dasar ekonomi baru di Amerika Syarikat boleh mempengaruhi ekonomi global. Selain itu, penganalisis itu membuat ramalan sendiri bagi mata wang negara-negara membangun untuk 2017.
Sebaliknya, Mikhail Makarov memberi tumpuan kepada isu praktikal. Dalam pembentangannya, beliau berkongsi dua rahsia utama kejayaan stabil di Forex dengan tetamu. Penganalisis itu meletakkan keutamaan yang tinggi kepada keupayaan untuk membangunkan sistem perdagangan sendiri yang perlu ditambah dengan pengurusan risiko yang bijak. Pakar mendedahkan kedua-dua rahsia, pergi ke terperinci dan menjawab soalan daripada penonton.
Sergey Aleksandrov ditangani ucapannya kepada pengamal perdagangan yang tidak sabar-sabar untuk mencari sumber pendapatan tambahan yang tidak akan menjejaskan rutin forex mereka. Sebagai jalan keluar, beliau mencadangkan pelbagai perkhidmatan dagangan yang memastikan manfaat tambahan selari dengan dagangan, dalam projek PAMM tertentu dan sistem ForexCopy. Beliau menegaskan bahawa peniaga-peniaga yang berpengalaman yang mencapai keputusan yang terbaik dalam program affiliate broker forex. Malah, pengamal boleh melatih pemula untuk berdagang dan mendapat ganjaran untuk panduan.
Majlis anugerah utama ialah permata dalam program yang ketat. Pemenang musim ke-7 daripada pertandingan ratu cantik Miss Insta Asia antarabangsa telah menerima hadiah mereka. Empat pemenang dalam pencalonan yang berbeza tiba di majlis tersebut dari Rusia, Ukraine, dan Republik Czech. Anna Gementchuk dari Kyiv diisytiharkan Miss Insta Asia 2016. Selain gelaran ratu kecantikan, beliau telah dianugerahkan akaun dagangan didepositkan dengan $ 20,000. Gadis itu berjanji untuk memulakan perdagangan dalam masa terdekat.
Akhir sekali, tuan rumah ShowFx Dunia tidak lupa tentang cabutan hadiah dan hadiah untuk pengunjung. Mengambil bahagian dalam InstaForex hadiah tradisional seri, sesetengah tetamu memenangi sijil bonus bernilai sehingga $ 1,000 dan peranti berjenama. Mereka, yang tidak bernasib baik untuk memenangi iPhone 7, diberikan buku mengenai perdagangan dan aksesori dari rakan kongsi InstaForex, kelab bola sepak Palermo Itali.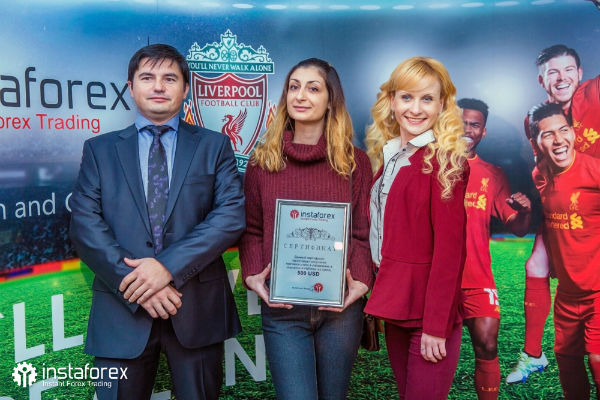 https://www.instaforex.com/company_news/9374.html

Trader Insta

Active Poster





Registration date :

2015-03-30

---

Number of posts

: 328

---
We are pleased to present InstaForex staffers. Your daily trading in forex could not be so efficient and easy without their valuable contribution. 
The team of analysts
 works hard monitoring the current situation both in Forex and in global markets on a daily basis. They provide InstaForex customers with timely up-to-the-minute information:

IFX Yvonne

The Quiet Type





Registration date :

2013-02-28

---

Number of posts

: 92

---
Legendary Dakar Rally 2017 comes to end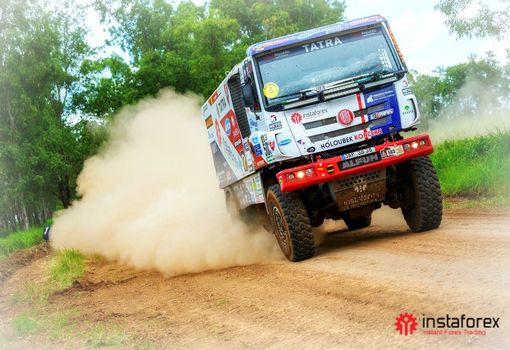 InstaForex
Loprais Team
[url][/url] headed by Ales Loprais
finished seventh
in the truck category in the Dakar Rally 2017. The world's most awaited race kicked off on January 2 in Asuncion and lasted for 12 days. Loprais Team passed 12 complicated stages going through special challenging routes in Paraguay, Bolivia, and Argentina. Loyal fans greeted the rally participants at the final destination in Buenos Aires.
The team competed in yet another Dakar Rally with a brand-new
Tatra Phoenix
truck that was built specifically for this race. Ales Loprais and Martin Kolomy joined their efforts creating InstaForex Tatra Buggyra Racing Formation.
On the route to Buenos Aires, the team experienced some technical difficulties as they had problems with the power steering pump and shock absorber. Technical faults alongside bad weather conditions affected the team's spirit and its results. Still, Loprais Team passed last stages and made it to the final despite all the troubles. InstaForex Loprais Team
jumped to the seventh place from the fourteenth
showing good results in the overall ranking.
The team thanks its fans for their support and promises to bring them up to speed on its future plans and events.
Stay abreast of InstaForex Loprais Team sports career on the team's
official website.
[url][/url]

Instafx_ns

Happy Camper





Registration date :

2016-10-31

---

Number of posts

: 251

---
Dakar Rally sampai penghujungnya
InstaForex Loprais Team telah diketuai oleh Ales Loprais menduduki tempat ketujuh dalam kategori trak di Dakar Rally 2017. Perlumbaan paling dinanti-nantikan di dunia bermula pada 2 Januari di Asuncion dan berlangsung selama 12 hari. Loprais Team melepasi 12 peringkat sukar melalui laluan mencabar di Paraguay, Bolivia, dan Argentina. Peminat setia telah menyambut perserta perlumbaan di destinasi terakhir di Buenos Aires.
Pasukan ini telah bersaing dengan pelumba lain dengan Truck jenis Tatra Phoenix yang direka khas untuk perlumbaan ini. Ales Loprais dan Martin Kolomy turut menyertai dalam usaha menghasilkan Pembentukan Instaforex Tatra Buggyra Racing
Semasa laluan ke Buenos Aires, pasukan turut mengalami masalah teknikal berkaitan kuasa pam steering dan penyerap hentak. Disamping itu, keadaan cuaca turut mempengaruhi keputusan dan semangat pasukan. Namun, Pasukan Loprais berjaya melepasi peringkat akhir walaupun mengalami pelbagai masalah. Pasukan Instaforex Loprais menduduki tangga yang ke -7 daripada 14 peserta yang tetap menunjukkan keputusan terbaik secara keseluruhannya.
Pasukan turut berterima kasih diatas sokongan penyokong dan berjanji untuk terus meningkatkan kelajuan mereka pada perlumbaan yang akan datang.
Teruskan menyokong kejayaan Pasukan Instaforex Loprais di laman web rasmi.
Dapatkan maklumat lanjut: 
https://www.instaforex.com/company_news/9398.html

Trader Insta

Active Poster





Registration date :

2015-03-30

---

Number of posts

: 328

---
Currency hedging is the act of entering into forward deals to buy or sell foreign currency intended to reduce the risk of financial loss in case of unwanted moves in exchange rates.

Trader Insta

Active Poster





Registration date :

2015-03-30

---

Number of posts

: 328

---
Now you have a golden opportunity to master Meta Trader 4 using an upgraded interface of Demo Account Cabinet. This new feature gives more flexibility to company's customers in applying the full range of instruments that were earlier available for the live account holders only. The introduction and use of the own company's own innovations for every customer's convenience is what the crux of InstaForex.

instafx_N9

Happy Camper





Registration date :

2016-10-18

---

Number of posts

: 261

---
Dua tahun yang lalu kami telah melepasi satu lagi tahap kerana bilangan pelanggan kami telah melebihi 2 juta dan pada hari ini kami telah menjadikan ia lebih besar.
Pada tahun baru ini, lebih 3 juta pelanggan telah berdagang bersama instaforex dan sudah pasti ianya dapat di capai kerana usaha dan kerja profesional dari pasukan kami.
Terima kasih atas penyertaan yang aktif dari anda dalam sejarah syarikat kami! Kami berjanji akan sentiasa memudahkan anda dengan keadaan yang bermanfaat ketika berdagang bersama kami, bonus dan pertandingan akan di berikan dan di anjurkan untuk membuatkan dagangan itu lebih menyeronokkan untuk anda.
Buka akaun dagangan bersama kami dan menjadi sebahagian dari komuniti pedagang instaforex!
Sumber: https://www.instaforex.com/company_news/9521.html

IFX Yvonne

The Quiet Type





Registration date :

2013-02-28

---

Number of posts

: 92

---
Results of five InstaForex contests revealed

We determined winners of five regular InstaForex contests. This time we will name the victors of the following competitions: One Million Option, InstaForex Sniper, FX-1 Rally, Lucky Trader, and Real Scalping. InstaForex warmly congratulates all the winners and wish other traders to find their names in next reports.

One Million Option
One Million Option is a popular InstaForex contest that gathers lots of participants in every stage who fight for the title of the best options trader. In the latest step Aleksey Belyavskiy showed the best result. The next stage of the One Million Option InstaForex contest will take place very soon - from January 30, 2017 to February 3, 2017.

InstaForex Sniper
The fastest and most accurate traders take part in the InstaForex Sniper contest. According to the results of the recent step, Muhammad Hafiz Azhari was the best. The next contest stage will kick off in January 30, 2017 and end on February 3, 2017.

Lucky Trader[url][/url]
Steady hand, cool head, and concentration on success are the key to victory and excellent results in the two-week marathon Lucky Trader. If you manage to trade perfectly for two weeks, you will become a winner just like Vladimir Kireev did it. The next stage will start on February 6, 2017 and come to an end on February 17, 2017.

FX-1 Rally
Sergey Sergienko showed the best performance using all of his trading and racing skills efficiently. We congratulate the winner on the outstanding victory and wish him luck in coming competitions. If you want to feel the thrilling spirit of this fight, welcome to the start of another stage of the FX-1 Rally contest. You can register for the nearest rally that will take place from 00:00 February 2, 2017 to 23:59 February 2, 2017.

Real Scalping[url][/url]
Short-term trading is rather difficult and meticulous and requires close attention. Not everyone is attentive, focused, and fast enough to succeed in the Real Scalping contest. This time Svetlana Kaskova displayed all these features and took the first place. InstaForex congratulates the winner and invites other traders to participate in the contest. Everyone willing to test their skills can register for the Real Scalping contest on the InstaForex official website. The next competition will begin on February 6, 2017 and finish on February 24, 2017.

Learn more about contests
Photos and comments of the finalists

IFX Yvonne

The Quiet Type





Registration date :

2013-02-28

---

Number of posts

: 92

---

Job

: trader

---

Age

: 34

---

Location

: germany
3,000,000 traders worldwide choose InstaForex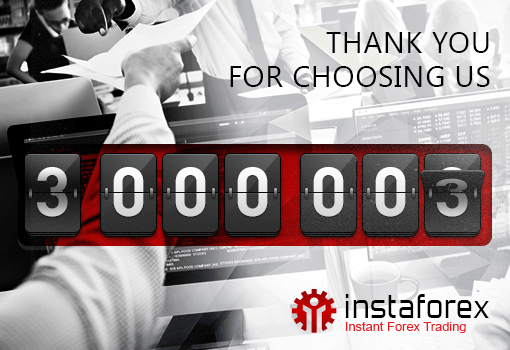 Just two years ago we crossed another threshold as the number of our clients
exceeded 2,000,000
. And today our team has become even bigger.
In the new year of 2017,
over 3,000,000 clients
have already been trading with InstaForex. Of course, such an achievement has been possible only thanks to efforts and professional work of our close-knit team.
Thank you for your active participation in the company's history! We promise to keep pleasing you with
beneficial trading conditions, bonuses
and
contests
and will do everything that it takes to make trading enjoyable for you.
Open a trading account with our company and become a part of the InstaForex traders society!
............................................................................................................................................................................................
Best Regards,
PR Manager
InstaForex Companies Group
Live help online